Military Small Arms & Firearms Blueprints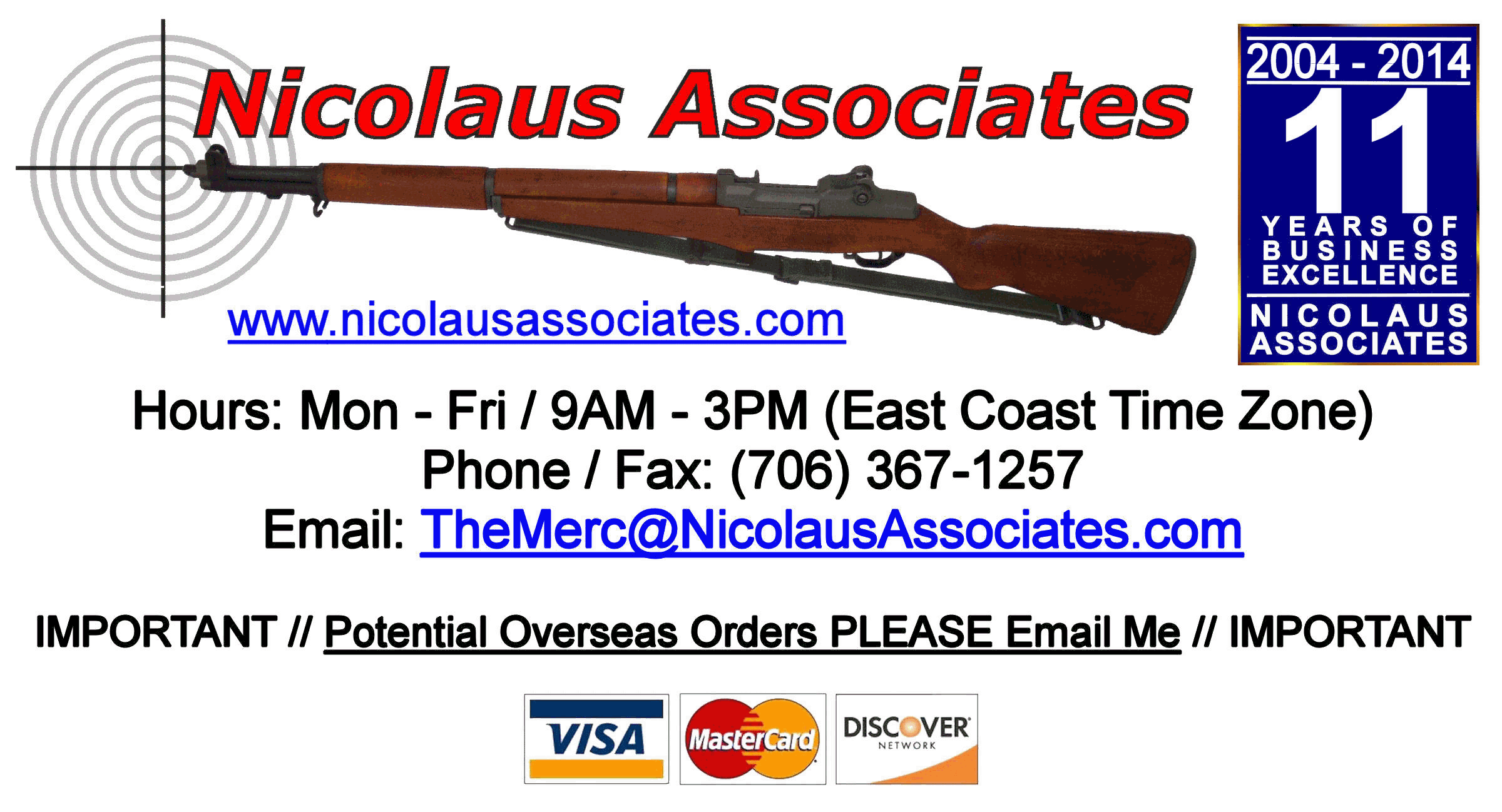 To Use Any of these credit cards, choose CHECK OUT WITH PAYPAL at the payment screen!
---
Nicolaus Associates Latest Deals and Products: http://nicolausassociates.blogspot.com/
---
Credit Card & Other Types Of Orders
Credit Card Orders: Nicolaus Associates accepts Master Card, Visa, and Discover Card as credit card payment options on-line. Mail Order, Telephone, PayPal and Fax Orders: If you are purchasing by Mail, Telephone, PayPal or Fax Order, simply "click" the "ADD TO CART" button. Your browser will be directed to the "SHOPPING CART" web page. In the "PAYMENT OPTIONS" block, "click" the appropriate payment method and follow the directions for "CHECKOUT".
---
M1C, M1903, M1903A1, M1903A3, M1903A4, M1 "Gas Trap", MC-1, M1/M2 Carbine Blueprints
I am in the process of writing several books on the above rifles. Late model M1 & M1D Garand drawings are available for individual purchase, although I recommend you purchase my books: "Rifle, U.S. Cal .30, M1: Diagrams & Pictures", "Rifle, U.S. Cal .30, M1D Sniper's: Diagrams & Pictures", "M1 Garand Rear Sights: Diagrams & Pictures, First Edition", "Pistol, Automatic, Cal .45, M1911A1: Diagrams & Pictures", and "Telescope M84: Diagrams & Pictures".
Blueprint Drawing Dimensions (Inches) and Cost:
"A" - 8.5" x 11" - $4.00 each
"B" - 11" x 17" - $6.00 each
"C" - 17" x 22" - $8.50 each
"D" - 22" x 34" - $9.00 each
"E" - 34" x 44" - $12.00 each
"F" - 28" x 40" - $11.50 each
Research Fees:
I am often contacted concerning US government blueprints that are simply not prepped and ready to be distributed. Additionally, many customers will say (for example): "I need all the prints for the M1 Carbine Bolt Assembly." They provide no nomenclature or individual part number breakdown for the assembly or individual parts. This requires much research on my part. TIME = MONEY. Therefore, if more then 15 minutes of time is required to research and prepare a group of blueprints for pricing and/or reproduction I will charge a simple research fee. The rate charged will be $25.00 per hour of research time.
---
Click Below to "View Cart" or "Check Out"
---
---