Small Arms & Information Links Page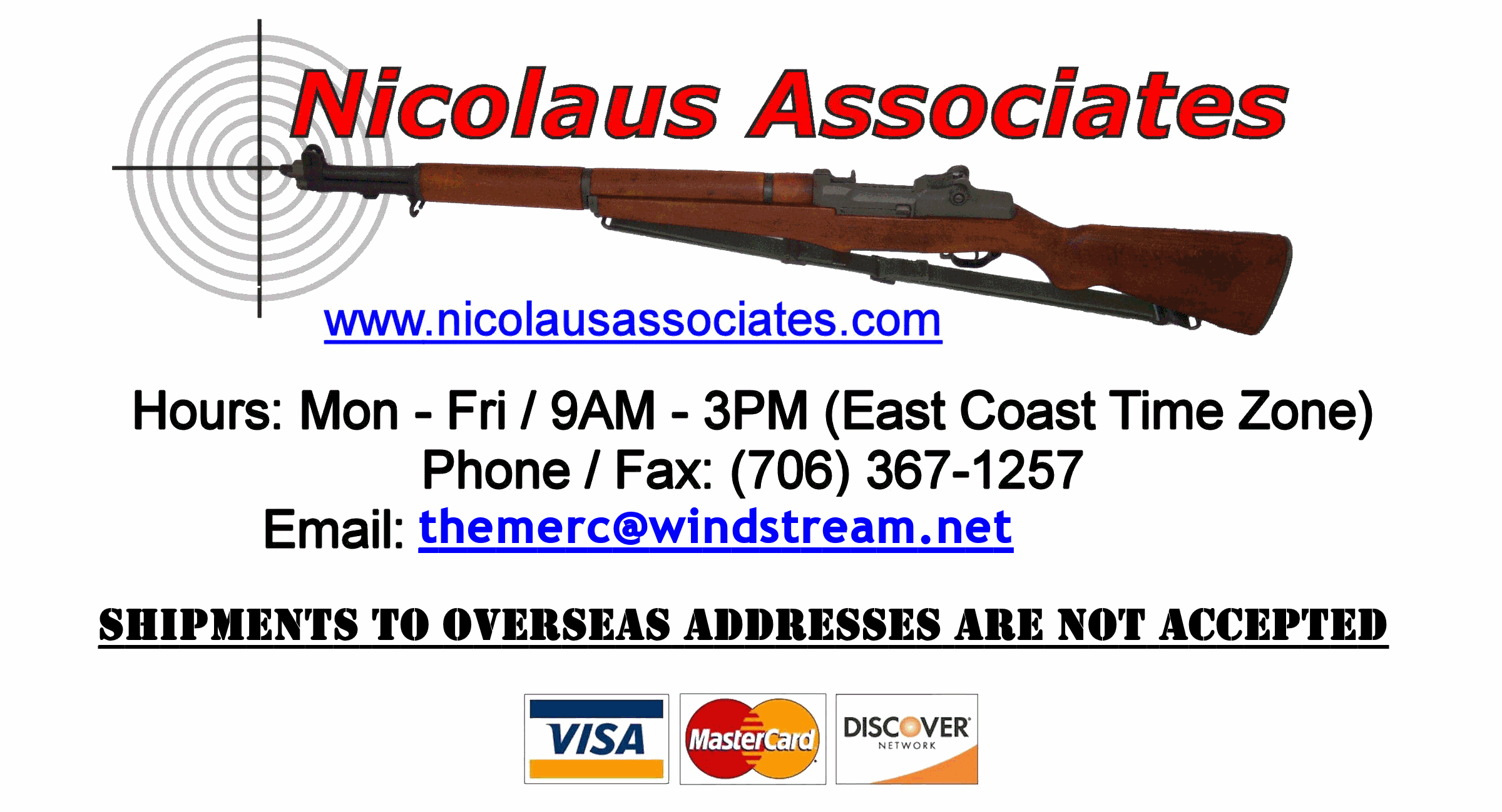 To Use Any of these credit cards, choose CHECK OUT WITH PAYPAL at the payment screen!
Nicolaus Associates no longer accepts orders from outside the 50 U.S. states - this includes no FPO / APO orders. All orders must ship within the fifty U.S. states.
---
Nicolaus Associates Latest Deals and Products: https://nicolausassociates.blogspot.com/
---
Credit Card & Other Types Of Orders
To use VISA, MasterCard, or Discover, choose CHECK OUT WITH PAYPAL at the payment screen!
---
Links that I have found to be very useful:
Bruce N. Canfield - Author, collector and historian of Post Civil War U.S. Military Weapons. Don't forget to read "Canfield's Corner" for an interesting read on some of the military's most interesting small arms.
Civilian Marksmanship Program (CMP) - The Civilian Marksmanship Program promotes firearms safety training and rifle practice for all qualified U.S. citizens with special emphasis on youth. The CMP operates through a network of affiliated shooting clubs and associations that covers every state in the U.S. The clubs and associations offer firearms safety training and marksmanship courses as well as the opportunity for continued practice and competition.
Dean's Gun Restorations (DGR) - If you need a military firearm restored, parkerized, repaired, and/or rebuilt, this is the firm that will do it right.
Dogfightink - Fine arts sales and design services. Very nicely done parts breakdown of the Garand and M14 rifles.
Garand Collectors Association (GCA) - If you own an M1 Garand, you should be a member of this organization. The GCA is devoted to the study of the M1 rifle. It is the intent of the GCA to foster interest and study on the subject of this superb military firearm. This is the link to the "new" GCA website!
Garanditis - Strictly for the M1 Garand enthusiast - the best little forum going!
Let Freedom Ring For All - A great website - make sure you view the video snippets - have a handkerchief handy too! The website's purpose is to reach high school students, in particular, stressing the importance of FREEDOM and delivering the factual message that so many young American lives have been sacrificed to insure our safety and lifestyle that we all enjoy here in the United States of America.

Memorable Places - The M1 Garand Rifle - Garands, accessories, maintenance, and nomenclature information.
Popernack Books & Militaria - Specializing in collectable U.S. militaria of all eras of U.S. history. Popernack Books & Militaria offers uniforms, edged weapons, gun parts, field gear, collectable ammunition and ordnance, reference books and manuals.
Rocky Mountain Tactical - Home of the best single point tactical sling and 2-point tactical sling on the market.
Scott Duff - Fine books, rifles, accoutrements and accessories.
Team M14 Forum - The name sort-of says it all. If you want to learn about the "son" of the M1 Garand, this is the place.
The Firearms Forum - A great place for the discussion of a broad range of firearms related issues!
The Collector Source - The best resource on the internet for Post war M1 Garand stocks and other military surplus items.
William J. Ricca Surplus Sales - Military weapons & small arms parts and more sold here!
---
Click Below to "View Cart" or "Check Out"
---
---